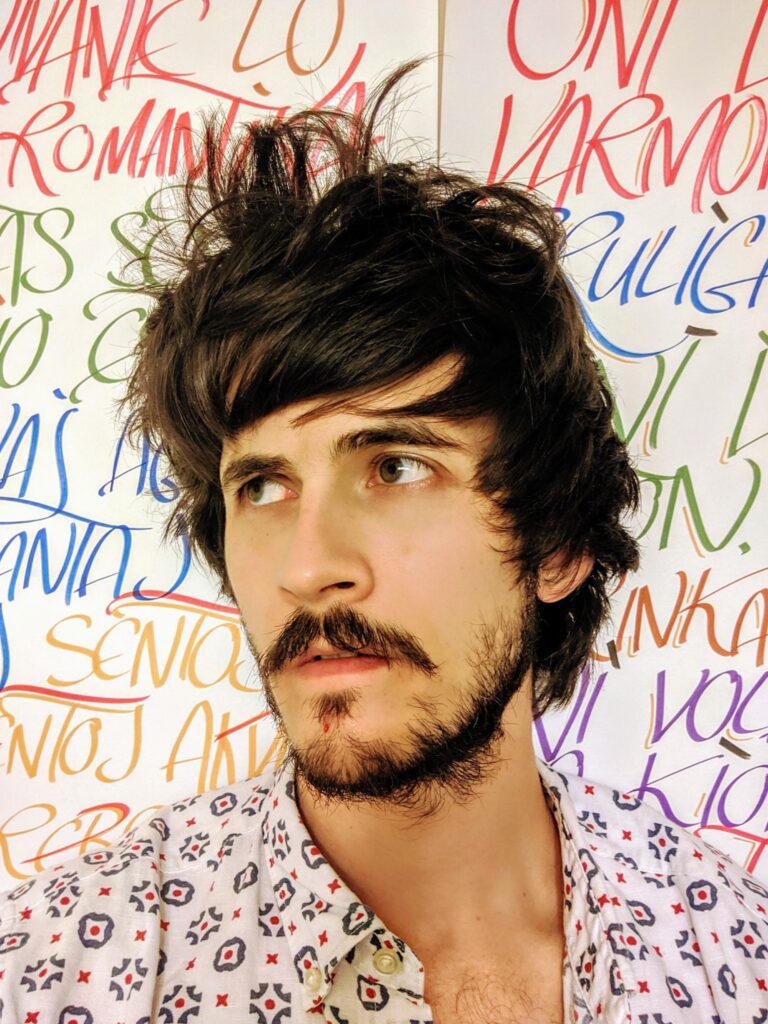 Following the board appointments and confirmation at our Annual General Meeting, Resonate welcomes Hakanto to the Board of Directors. Hakanto shares his introductory letter, sent to the Board before seating.
---
I'm Hakanto: a singer, pianist, and visual artist in Houston, Texas. In May of 2020, I discovered Resonate while researching co-operative business. I'd been furloughed at the start of the pandemic and, like so many, I was looking for a new way forward out of a bleak situation. During the summer, I was welcomed aboard after visiting a Community Call and have been a committed volunteer ever since.
To you who I've worked beside during my time here, I'm deeply moved by the trust you've expressed in me by proposing that I join the Board of Directors.
Part of what led me to co-operatives is the reality that few get to live a democratic life other than through disconnected moments like voting for distant representatives. We are denied complex personhood in the majority of institutions and businesses we interact with, hurting our minds and hearts. We are excluded from conversations and decisions as the norm.
This learned separation may leave us bewildered when we encounter a lively co-operative for the first time. Co-operatives are resolute businesses with over a century of experimentation and success. They are places that not only provide a different governance and ownership model; they are places where people can engage with a more welcoming and egalitarian way of being themselves.
However, this level of ownership and democracy is often unfamiliar. As is said around Cooperation Jackson, we're trying to learn how to be democratic and it is a challenge because we don't really live in a democratic society. "The more you really try to get into work like this, the more you realize how undemocratic the overall society that we live in really is."
This encouraged my commitment to co-operatives. I knew I wanted to help build places where we could practice and learn together how to live democratically.

Historically, co-operatives emerge to fulfill needs that aren't being met or are denied. While these needs are economic at the surface, they go much further. In the case of musicians, it goes deep. Denied income, denied control, and denied ownership — music has become yet another enclosure, funneling money from creators. I haven't experienced this personally, but only because I'm still in the slow-burning composition stage of my own music project. While I dream of performing and sharing the art that is so close to my heart, it's been with a shrugging acceptance that it probably wouldn't put money in my pocket.
I've always been a musician and performer, but for music industry knowledge, I'll be relying on my peers at Resonate. The work background I bring is in hospitality, instruction, and design. I've worked in foodservice for the last eight years, and I say that with emotion and pride. Good hospitality work requires dependability, consistency, and courtesy — giving clear expectations and meeting them. These small rituals and interactions create a canvas for so much more.
When I started volunteering at Resonate, a large part of where I directed my focus was to these "big little things". Organizing emails, cataloging frequently asked questions, members administration tasks, facilitating onboarding, coordinating new music uploads and publicizing them, raising attention toward key sections on the Resonate Player, and much more. As a daily listener and worker, I knew we needed rituals that listeners could look forward to — and we needed to spread the word about all the good that was happening behind the scenes. I strove to learn the ins and outs of the organization and its processes, not simply for my own knowledge, but to prepare orienting documentation for future newcomers.
As a barista and restaurant worker in Houston, I've been surrounded by some of the most creative and hard-working people I've met. The camaraderie in those places and the feelings of pride (and relief) after a brutal shift are things that really bind you together. Here and there we would identify problems with our work processes, but so often we either lacked or were denied a way to do anything about it as a group. I was confident we had among us the ability to improve our work experience and our productivity, but we needed something we didn't have: common frameworks to help us to listen to each other, strategize, and be entrusted with the agency to act.
I believe that through Resonate we can build such frameworks and discover our collective brilliance.
I am dedicated to co-operative theory and practice. But theory is only made real when experiments transform it into experiences.  Unlike static theories, our experiences are uniquely filtered through our own lives. During my time at Resonate, I've been emboldened by our shared resolve toward a co-operative music future.  A parallel process is to solidify this as a place where member-owners have their own engagement with co-ownership; these diverse experiences — shared and heard — can be a compass.
I've made it a focus to highlight Resonate's role as a member-owned business. For many, Resonate will be the very first co-operative they join and really engage with (I share with humility that it was essentially my first as well!). Whether for musicians, labels, listeners, paid workers, committed volunteers, or occasional contributors, we can foster a unique level of ownership and connection here. That is what I have experienced and want to foster, and that is something that industry competitors won't be able to copy.
Education isn't just information, it's presentation. We all know that a song can communicate what many pages couldn't express. We'll need that kind of artistry (and efficiency) to express what is really special about what we are building here. Presenting information for various levels of engagement will make sure everyone at Resonate has access to what they need (and in the right amount). With big dreams, we'll need to be deeply focused, organized, and accessible.
Make a great streaming platform. Make the service consistent and responsive.  Offer clear expectations and meet them. Own and run it together. Document the journey and invite others in. Communicate often and foster conversation. Ask for help from our community and advice from other co-ops. Find our own balance of structure and flexibility. Listen, teach, and grow together. Share our stories and learn from them. And above all, send artists checks.
With care for this co-op and each other, these seeds will bloom into a new harvest for musicians and their communities around the world.
With heart,
Hakanto