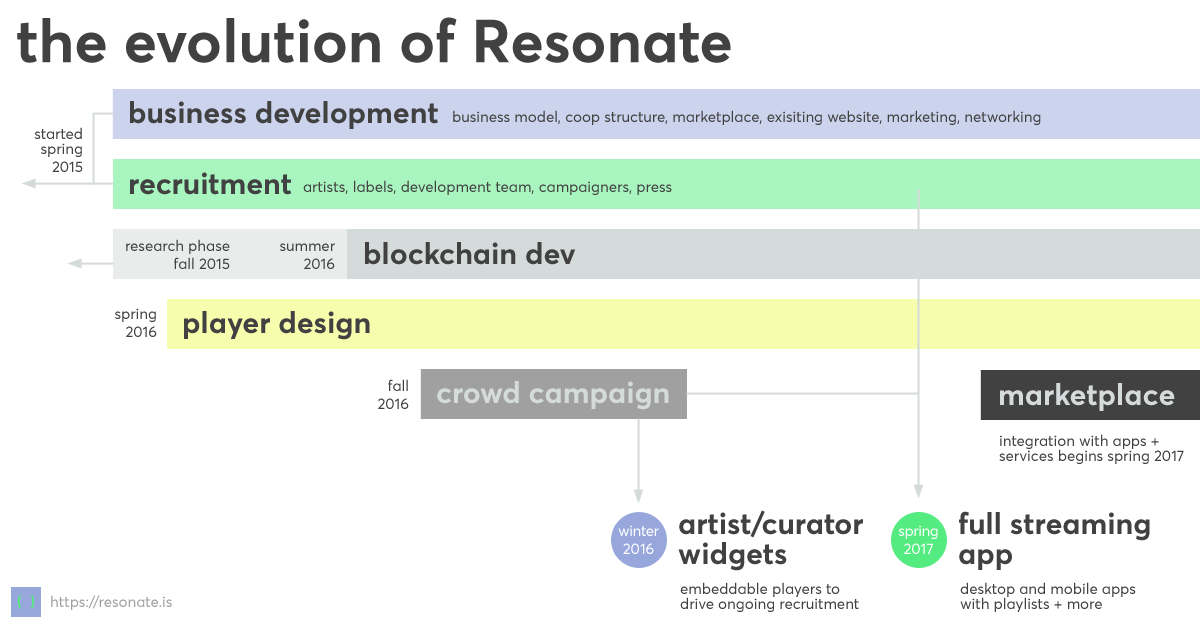 This post explores how Resonate has evolved from the seed of an idea to its current status and roadmap.
Business development
Began in Spring of 2015 with the seed of an idea… to solve problems of engagement and accountability in music startups by using the cooperative business structure. Followed shortly thereafter with advent of the stream to own listening model. Part time volunteers joined in October 2015. Resonate's founder went full time in early Spring 2016, followed by other key members of the team… Shane Morris, Victor Matekole, Ian Warner and Timothée Goguely to namedrop a few.
Recruitment
Resonate's first artists signed up in Summer 2015. Recruitment proceeded steadily through the year, then began to accelerate in early and really took off in Summer 2016, now resulting in signed up to the #platformcoop.
Blockchain development
Research phase began October 2015 when Peter first learned of Imogen Heap's UJO Music blockchain experiment. This later evolved into Mycelia which has held several hack events in 2016. After the opening Mycelia event, Peter was asked to coordinate the #MTFLabs: Blockchain event alongside cryptographer Petter Ericson. This cascaded into Resonate becoming a member of Berklee's Open Music Initiative in the US.
What do all of these events and activities have in common? A yearning to harness blockchain technology to create a truly fair trade music ecosystem. Currently we're collaborating with BigChainDB to build an open source music database that will seed Resonate and other startups. Insanely complicated stuff, but we're up for the challenge.
Player design
Design kicked off in 2016 with arrival of Paris-based designer Timothée Goguely, who has been steadily designing incredibly detailed wireframes of the future Resonate app since then. Developers have been supporting, working on building a backend system for curated playlists to be featured during the crowd-owning campaign. Without engaging in too much hyperbole, we're totally reinventing the idea of how a streaming music player (and community) should function.
Crowd owning campaign – Fall 2016
Just in case you missed it, Resonate is a cooperative. That means everyone has an ownership share and can democratically participate in making decisions and supporting development. While clearly the best model to create a truly fair and equitable system for both musicians and fans, this presented a unique investor problem which is being solved through a crowd-owning campaign coming Fall 2016.