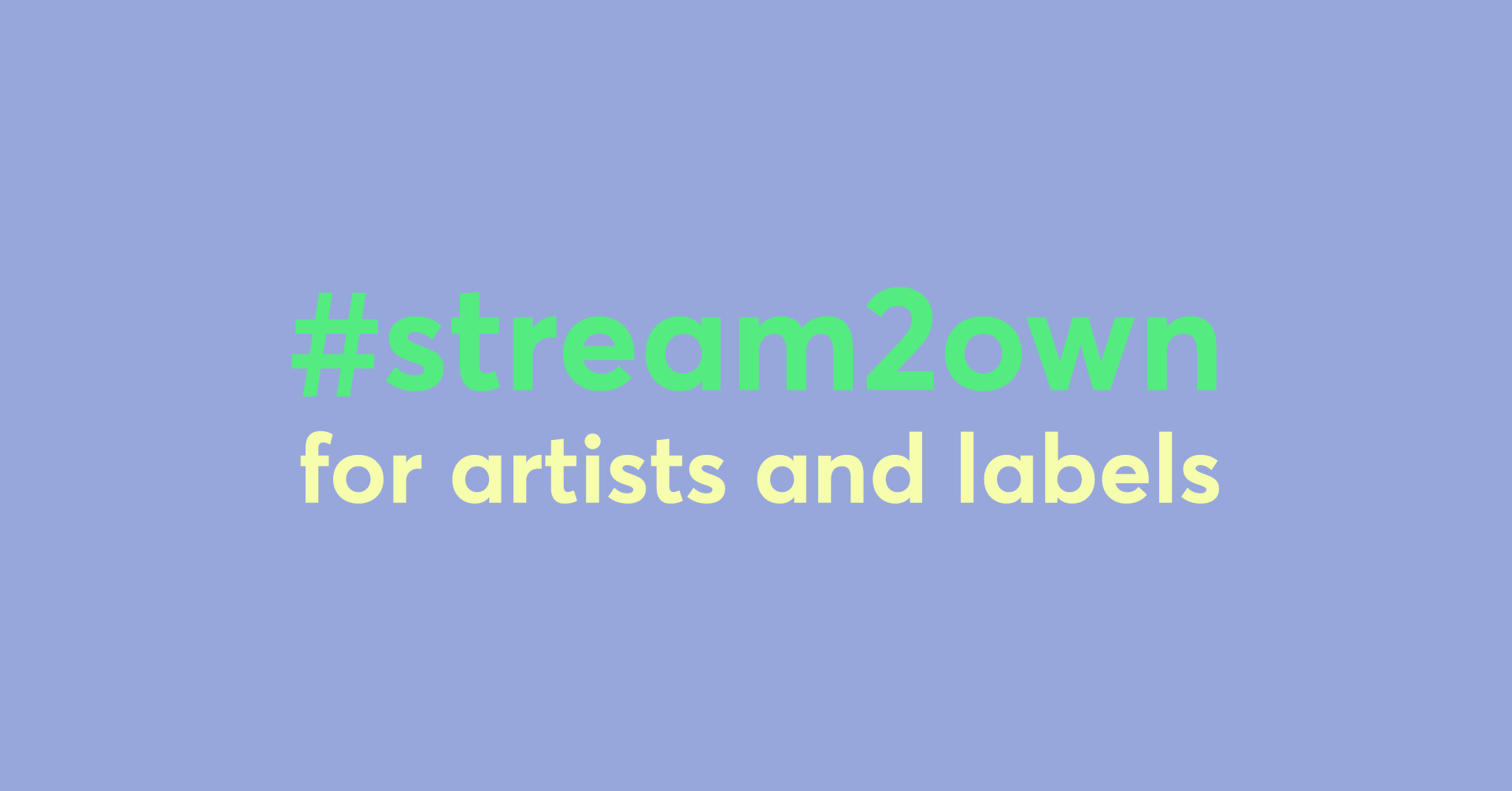 By now, you probably have an idea of how #stream2own works – what makes it new, and why it's exciting. But maybe you're still wondering what exactly Resonate membership means for artists and labels.
This can essentially be broken down into two basic areas: the streaming side of things, and the co-op side of things. Here, we'll explain what all this entails.
#stream2own: uploading and earning
Being a label or artist on Resonate involves a few different things. As we work to streamline upload and payment processes, a few details are subject to change – watch this space for updates.
Artists
When you sign up for Resonate as an artist, you don't have to pay the $5 membership fee – you earn your share in the platform by uploading your music. There are no upload limits or fees for artists on Resonate.
If you're in a band, you can sign up solo first and add your band later. This also applies if you have multiple projects or aliases.
Labels
Like artists, labels also earn a member share in Resonate by uploading music. Participating labels can receive bulk payments or distribute directly to artists, and help contribute to the growth of the independent market.
For labels that upload music from over five artists, we're happy to help build your artist profiles and manage music uploads for you.
Earnings
Currently, Resonate takes 30% of each stream for operating costs. The remaining 70% goes straight to you.
We're very close to finalizing our payouts system, and we're trying to balance costs and functionality as best as possible. This is complex because we're dealing with various currencies and regulations around bulk payment processing methods. Resonate is working hard to provide the most fair, efficient and cost-effective system possible.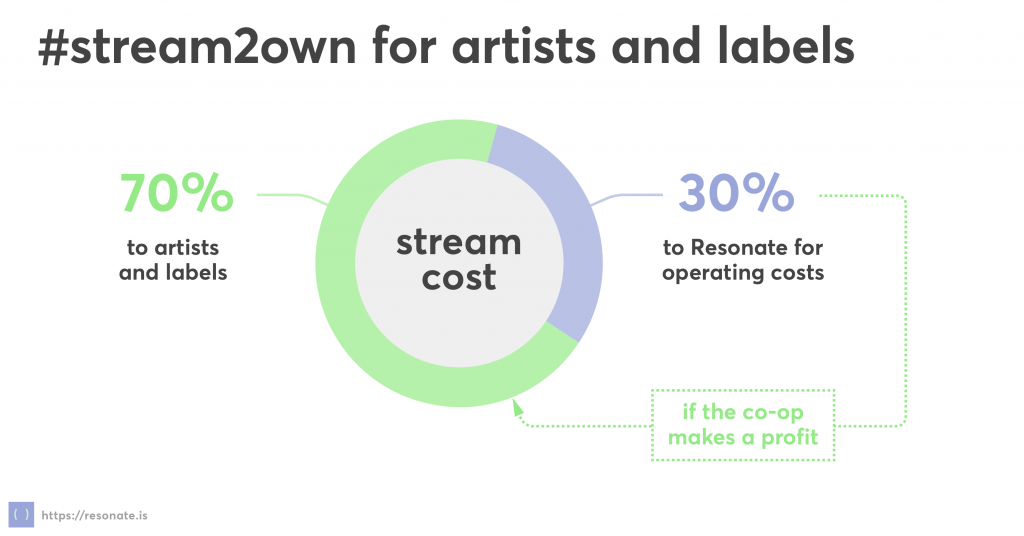 One important thing to note: we are pursuing alternative funding streams to cover ALL of our operating costs, with the goal of eventually increasing payments artists. If we're successful, this could lead to musicians and labels taking 100% of each stream.
As we work on streamlining our outbound payments system, we may have to rely on services that aren't always 100% aligned with the values of the co-operative. We're a small team, and are always doing our best to pursue solutions that everyone is satisfied with in the long run.
Being part of the co-operative
Resonate is run as a co-op, so all labels and artists with music in Resonate's catalog are entitled to membership. That means you co-own the platform; you have a say in the way it's run, and what decisions are made.
If a label uploads their discography to Resonate, then all of their artists are also entitled to membership. That includes voting rights and access to all data.
In addition to streaming revenue, Resonate membership means that artists and labels get a share in overall yearly profits, too.
As we've explained, any and all profits are shared with all stakeholders. After removing 30% (20% for a rainy day fund and 10% for investor dividends) 45% of the remaining profit goes to musicians, 35% to fans, and 20% to Resonate staff and volunteers.
Within these groups, profits will be split proportionally to members' involvement. For example, artists with higher amounts of streams will be returned a higher proportion of revenue. Thanks to the design of the #stream2own model, this proportional distribution will be transparent and fair for all parties.
As we develop new services, members also have the opportunity to try them out first – our streaming model supports indie music economically, but we don't plan on stopping there.
Our network is growing steadily. As of this moment, over 2600 artists and 340 labels have signed up. (See our live stats for the most up to date figures.)
If you'd like to join them, you can do so here.
If you have further questions, please feel free to get in touch.