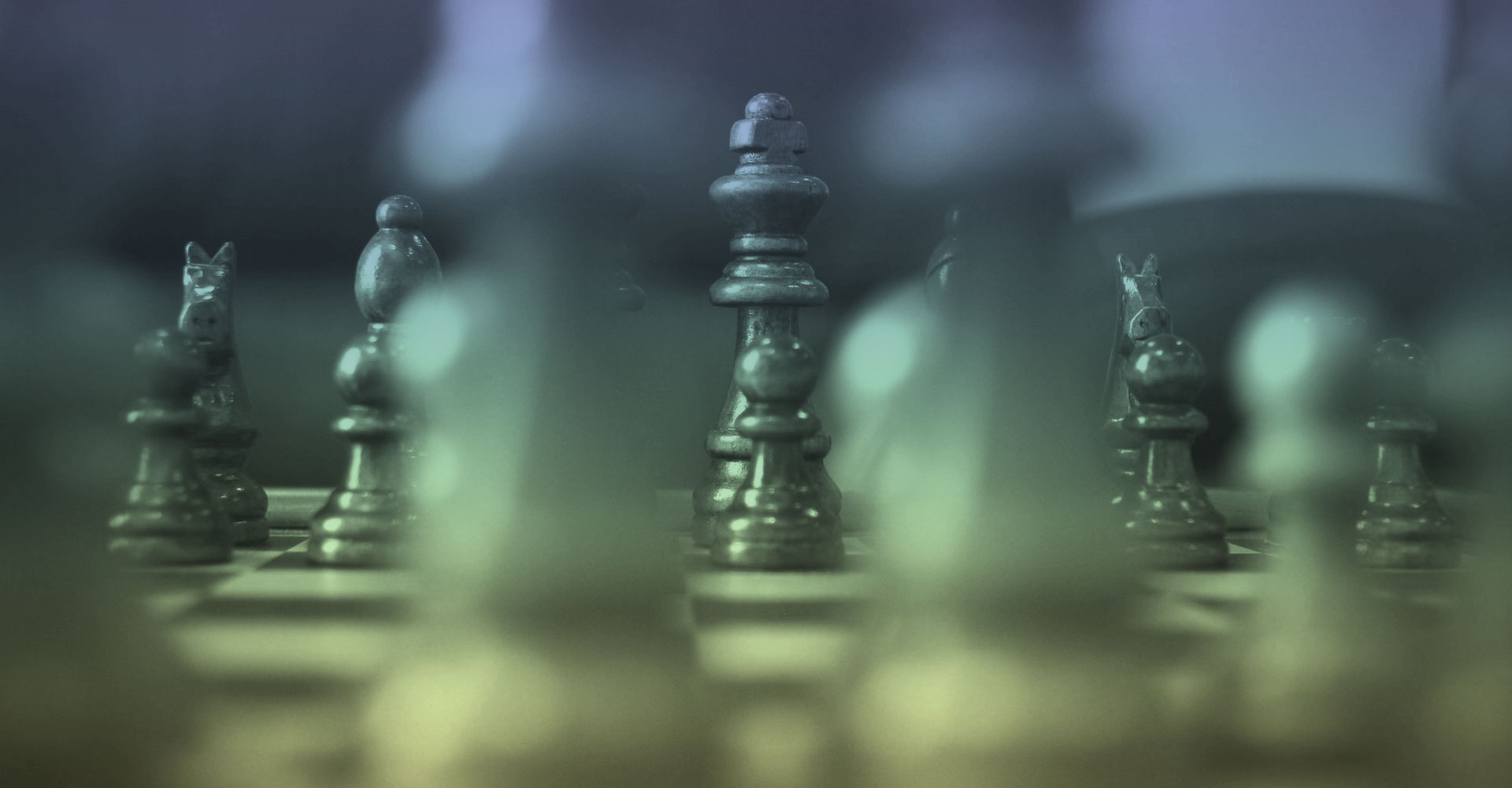 In case you've never heard of this type of business, a cooperative is a company structure that allows everyone involved to be a co-owner – sharing in decisions and sharing in the profits.
The saying usually goes "one member, one share, one vote" and it's all about bringing democracy to the workplace.
That's a very brief description of what cooperatives are about, so check out Wikipedia for more details.
We're building Resonate as a cooperative as it allows everyone involved (fans, musicians, indie labels and our workers) to have a say in how the company runs.
Voting on features and projects to develop, electing who serves on the advisory board and upper management, deciding on key policies that affect how your data is used, what kinds of partnerships to make, and more… these are all examples of what having a democracy-based company is all about.
And then there are the profits.
As we're essentially a worker/consumer co-op, this means that every year we'll share any and all profits with consumers (listeners) and workers (musicians, labels and our staff). Listeners will be able to trade their profits for more streams and downloads and/or withdraw as cash. Same for everyone else.
Once the crowd-owning campaign is complete, we'll immediately begin setting up our decision-making structure, providing the community with the ability to get involved from the very beginning.
The important thing here is that no one is required to participate, but everyone has access.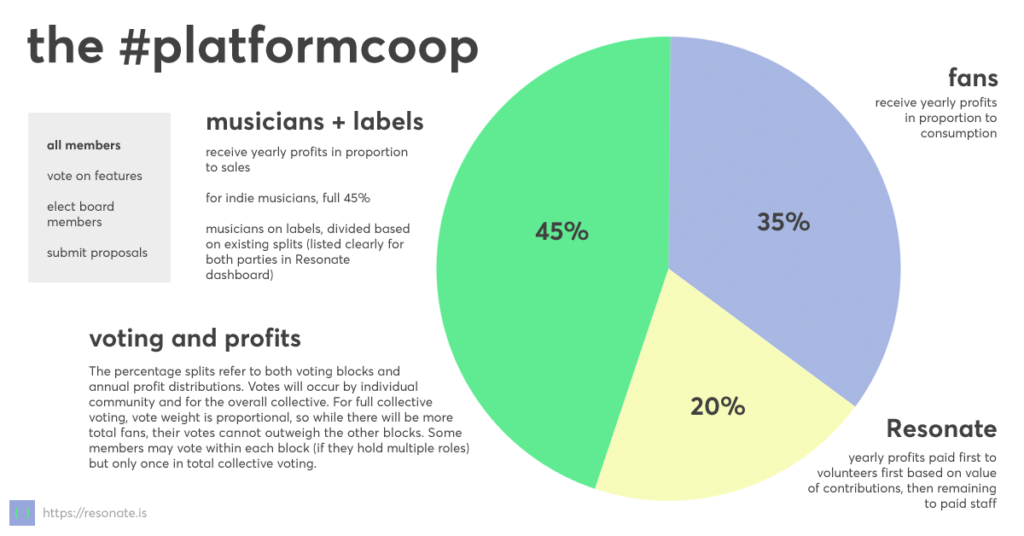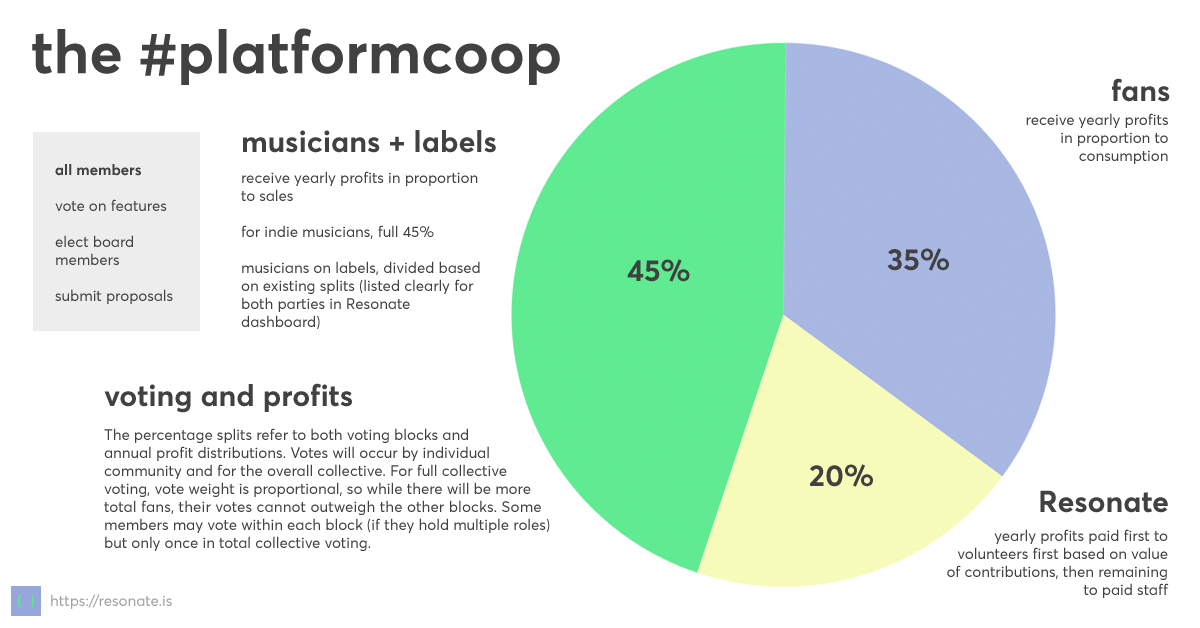 A look at the numbers
Resonate is a multi-stakeholder cooperative, comprised of three different roles… musicians, fans and the people who build it. A typical worker/consumer co-op has two roles and in our situation, in effect, musicians are part of the worker group. Here's how profit distributions break down:
45% musicians
35% fans
20% Resonate
So if Resonate makes a million dollar profit in the first year, those profits will be split 45/35/20.
For musicians, fans and staff, profits will be distributed according to involvement.
For musicians, those that receive a larger number of streams will get a higher proportion. (Musicians that share normal earnings with their labels will do the same with yearly profit distributions.)
Fans will get a profits proportion based on how they consume, meaning big spenders will receive a higher proportion. For staff and volunteers, (community managers, contributors to open source) those that put in more time will receive more dividends.
In all situations, these percentages will be fairly split according to involvement, not on status, access or other forms of privilege.
Rainy day fund
The profit distributions are calculated after first removing 20% from the total. This is known as a "rainy day fund" and is a standard method for co-ops to maintain a cash reserve in case of emergencies. With technology startups this is key because growth often outpaces profits; it usually becomes necessary to add additional staff and technical resources as demand grows.
Advisory board and community management
A number of details regarding cooperative procedure and governance will evolve as the community grows. To start we have begun appointing a temporary advisory board. (Members can be found on the collaborators page.) A new board will be elected shortly after the crowd-owning campaign has successfully concluded.
An organic form of community management will also likely rise up, driven by passionate volunteers from among our various stakeholders… musicians, fans and open source volunteers. Some combination of forums and Loomio's discussion system will drive conversations dealing with a variety of issues. Many of those discussions will organically lead to member-wide votes about key issues.
Further reading
Explore how governance in Resonate can be managed in the blockchain*, providing a secure, irrevocable record of transactions.
To read more about the personal story about how Resonate came to exist as a co-op, check out this post on Medium.
---
*Note: this article remains published for historical purposes. This post explains our current position on blockchain tech.