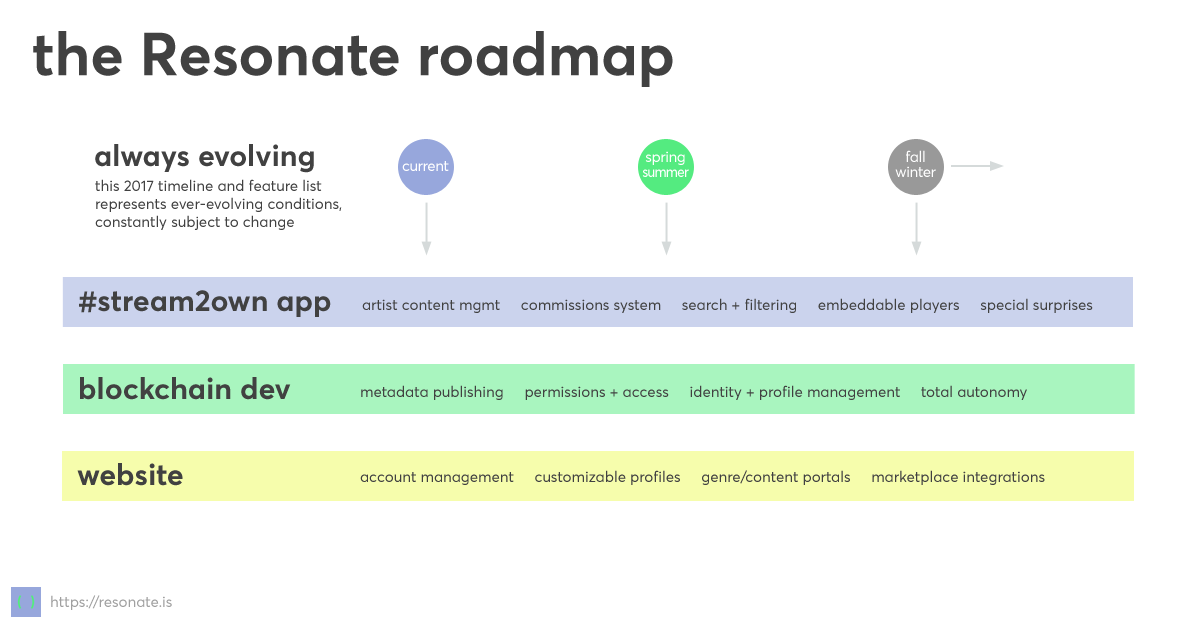 With the commencement of the crowd campaign and release of the beta #stream2own app, plans for future development have been evolving quickly.
Let's explore the three main areas of development and look at the list of planned features. Lines/items marked in grey have been completed.
#stream2own app
#stream2own methodology – system for calculating increasing micro-payments
artist content mgmt –

multi-track uploads, playlists,

metadata editing
commissions system – incentivization program to accelerate growth
buy now + more info – explore content in the app
search + filtering – find content by playlists,

genre, artist, labels

embeddable players – for artists, labels and curators
special surprises – now, it wouldn't be a surprise if we told ya, right?
blockchain*
metadata publishing – publish song info + files to the blockchain
permissions + access – control who has access to files and data
identity + profile mgmt – a portable, decentralized solution
total autonomy – fully independent access/control for artists
website
account management – for fans, investors and everyone else
customizable profiles – tools for artists to build unique profiles
genre/content portals – organize + feature content by genre
marketplace integrations – cross-promotions with third parties
And of course, this list just represents the obvious stuff we've identified. Resonate has evolved organically and will continue to do so, creating space for new ideas and innovations to shift directions as needed.
---
*Note: this article remains published for historical purposes. This post explains our current position on blockchain tech.