Deep dive on the #stream2own model
While streaming has won out as the preferred method for music consumption these days, all that glitters is not gold.
[easy-tweet tweet="Are monthly #streaming subscription models sustainable for musicians? @resonatecoop says no." url="https://resonate.is/stream2own/"]
There is the well-known controversy about royalty payments but usually missing from the conversation is that it isn't fair to artists because it's simply not a sustainable business model.
For artists, streaming revenues don't remotely compare with downloads or physical sales in terms of total generated revenue. For services, the monthly subscription model has yet to make anyone a profit.
We're changing that through our unique #stream2own system, a method of slowly increasing price as a fan comes to love a song, starting really cheap until finally reaching the price of a normal download.
This totally new system for streaming/ownership is based on a top-up, pay-as-you-go model instead of the usual "all you can eat" monthly subscription.
We'll explain later why a top-up model is better for artists and often costs the same for fans as subscription models. For now, let's look at how the process works...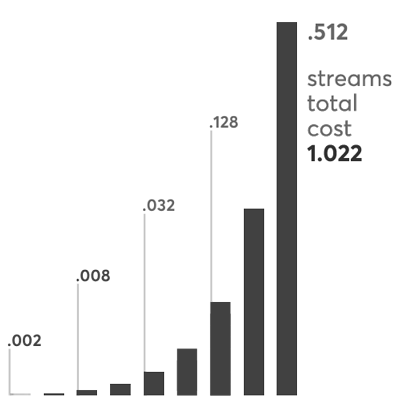 We start at .002 credits. The first stream of a new song is super cheap.
The second time a listener hears the same song, the price doubles to .004 credits. On the third listen, fans pay .008.
Notice a pattern? Indeed - the price keeps doubling every time the same song is played until eventually reaching 1.022 on the 9th play. Then the song is paid for, free forever and can even be moved out of our player.